Stalker
Talk

9
5,375pages on
this wiki
"I am here in the shadows."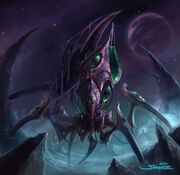 The stalker is a Dark Templar cybernetic war machine.

The fall of Aiur demonstrated to the Dark Templar that more than just stealth and guile were required to defeat the zerg. Hence, the Dark Templar developed the stalker, a war machine inspired by the Khalai dragoon. While dragoons were piloted by crippled protoss, the stalker is controlled by the shadow-essence of a Dark Templar warrior fused into a metal body. The new walkers are armed with carapace-mounted particle disruptors adept against both ground and aerial targets.[1]
Stalkers have been credited with many fantastic powers since their battlefield début.[1] (as early as 2502).[2][3] However, only one is witnessed consistently: an ability to instantly teleport, or "blink", from one spot to another.[1] This ability requires augmentation to a stalker,[4] but the improved mobility allows the stalker to conduct ambushes, catch fleeing foes, and generally engage on their own terms.[1]
Stalkers are often used to support zealots on the battlefield.[5]
Game Unit
Edit
Stalker
Unit
Race
Role

Ranged support strider

Armament

Particle disruptors

Properties
Transport
size

2

Sight range

10

Production

Minerals

125

Gas

50

Psi

2

Build time

42 (32 warp gate cooldown)

Produced from
Requires

Hotkey

S

Movement

Speed

2.953

Acceleration

1000

Lateral
acceleration

46

Deceleration

0

Collision radius

0.625

Protection

Shields

80

Shield
regen/second

2

Hit points

80

Armor

1

Type
Armor type
Particle disruptors
Damage

10 (+4 vs armored)

Targets

Cooldown

1.44

Range

6

Upgrade/level

+1

Meta
Target
priority

20

Kill score

500

Production
score

250
In-game, stalkers function like fragile, but more agile dragoons. They serve as excellent economy raiders.[6]
Stalkers can dance like a dragoon[7]. This may be enhanced by Blinking, especially in multilevel terrain.
Stalkers are effective against units with low damage per second, especially with Blink micro.[8] The reverse is true for offensive units, especially those with attack bonuses against armored units.[9] Zerglings are cost effective counters to stalkers; the Blink cooldown is too slow to ensure escape.[8]
Stalker/sentry combinations are common in mid-game scenarios.[10]
Abilities
Edit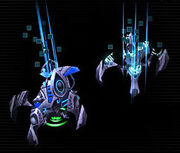 Blink

Acquisition
Minerals

150

Gas

150

Research time

140

Researched at
Hotkey

B

Usage
Cooldown

10<

Hotkey

B<

Notes

Stalkers may instantly teleport over short distances. This allows stalkers to strike from unexpected quarters, catch a fleeing foe, or escape an unfavorable encounter. Blinking does not cost energy, but has a cooldown of ten seconds.

Blink requires line of sight to use. Stalkers may blink obstacles and up and down cliffs and onto higher or lower ground; the distance is not reduced.

Stalkers affected by Fungal Growth cannot Blink.

Edit
Ground Armor

Researched at
Hotkey

A

Properties

| | | | |
| --- | --- | --- | --- |
| Level | Level 1 | Level 2 | Level 3 |
| Minerals | 100 | 150 | 200 |
| Gas | 100 | 150 | 200 |
| Research time | 160 | 190 | 220 |

Notes

Increases the armor of protoss ground units.

Edit

Plasma Shields

Researched at
Hotkey

S

Properties

| | | | |
| --- | --- | --- | --- |
| Level | Level 1 | Level 2 | Level 3 |
| Minerals | 150 | 225 | 300 |
| Gas | 150 | 225 | 300 |
| Research time | 160 | 190 | 220 |

Notes

+1 armor to shields per level.

Edit
Quotations
Edit
Development
Edit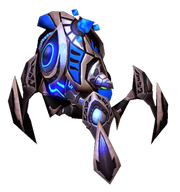 The concept behind the stalker was that of a "dark dragoon." It took awhile for the specifics to be nailed down.[11]
The design was finessed several times as its asymmetrical shield and legs gave it a zerg-like appearance. This dictated that platinum be made the dominant color in order to distinguish it (which led to platinum being the dominant color for Dark Templar as a whole). However, the shield made the stalker look heavier and more imposing from some angles, while weak and frail from other views. It was eventually settled that the stalker should have a medium sized shield to interfere the least with visual communication.[12]
Eventually, Samwise Didier called for an overhaul, wanting the stalker to be based more on his original concept art. The stalker was thus redesigned,[12] and the new model was revealed at BlizzCon 2008.[13]
Achievements
Edit
To the Shadows I Run
Points

10

Criteria

Use Blink to save a Stalker in a Melee game.

Notes

The stalker must dodge a killing blow, and blink away from the projectile while it is traveling in midair
The stalker resembles the Shock Trooper from Command & Conquer 3: Tiberium Wars in appearance, purpose (anti-armor ranged fighter), and ability to blink.
References
Edit
↑ 1.0 1.1 1.2 1.3 Blizzard Entertainment (2007-05-19). Stalker. Blizzard Entertainment. Accessed 2007-09-06.
↑ Elder, Josh (w), Ramanda Kamarga (p). "Why We Fight." In StarCraft: Frontline: Volume 1 (paperback binding), pp. 6–47. Tokyopop, August 1, 2008. ISBN 978-1427-80721-2.
↑ April 6, 2010. "Timeline". StarCraft II: Heaven's Devils. Simon & Schuster (Pocket Star). pp. 311 - 323. ISBN 978-1416-55084-6.
↑ http://sea.battle.net/sc2/en/game/unit/stalker Unit: Stalker], Blizzard Entertainment. Accessed on 2010-12-14
↑ Races: Protoss. Blizzard Entertainment, accessed on 2010-08-07
↑ Zetaras Xal'Kurat. 2008-03-16. StarCraft 2 Korean and Chinese Build Summary. SC2 Blog. Accessed 2008-03-18.
↑ Karune. 2008-07-16. StarCraft II Q&A - Batch 41. Battle.net StarCraft II General Discussion Forum. Accessed 2008-07-16.
↑ 8.0 8.1 Stalkers still fall to large groups of Zerglings in terms of cost, even with Blink micro. Although, with the additional micro, especially while also using terrain to your advantage, a Protoss player will definitely be able to at least fight a group of Zerglings, rather than being forced to retreat. In the Sonkie/Yellow game 1, the Blinking micro definitely kept his Stalkers alive longer, though force firing would have ended that battle in the Protoss favor as well, since the Stalker has bonus damage towards armored units like the Roach. Zerglings are still definitely the best counter against Stalkers from the Zerg side, especially since the improved pathing system allows them to get to their ordered locations faster and are able to surround more efficiently. The cooldown for Blink is perfect in saving Stalkers from death against Roaches which have a much lower rate of dps than Zerglings. Against Zerglings, the cooldown is not fast enough, similar to the announcement video of the Protoss race when the Stalkers were first introduced. Karune. 2008-10-14. Re: Stalkers seem imba (page 3). Battle.net StarCraft II General Discussion Forum. Accessed 2008-10-14.
↑ Stalker. Blizzard Entertainment, accessed on 2012-05-28
↑ 2012-06-08, StarCraft II: Heart of the Swarm - Battle Report (Protoss vs Zerg). Blizzard Entertainment, accessed on 2012-06-21
↑ 2011-05-31, May 2011 HoTS Fansite Interview. StarCraft Legacy, accessed on 2011-05-31
↑ 12.0 12.1 2010, Starcraft 2: Protoss Stalker' Deviantart, accessed on 2011-07-20
↑ Karune. 2008-07-16. StarCraft II Q&A - Batch 43. Battle.net StarCraft II General Discussion Forum. Accessed 2008-07-16.