Stitches
Talk

0
4,989pages on
this wiki
Stitches
Physical
Race

Undead

Gender

Male

Eyes

Grey[1]

Political
Occupation

Abomination
Stitches is an undead abomination.
Summoned from the depths of Azeroth, he was modified with cybernetics by an unknown necromancer. However, he doesn't know how to use most of them, so falls back on a more familiar ability: vomit.[2]
Game Unit
Edit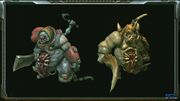 Stitches appears in Blizzard All-Stars. As a "good" hero, he is outfitted with CMC armor, whilst he is clad in ultralisk parts as an "evil" character.[1] He may be given an appearance that bears resemblance to the Butcher.[3]
Stitches is a tough hero who benefits from Strength items.[2]
He is similar to DotA's Pudge.[4]
Life: 5+
Attack: 1+
Abilities: 2+
Speed: 2+
Abilities
Edit
Devour
Disease Cloud
Hook

Stitches' hook can grab an enemy and pull them to him. If the enemy moves out of the way, the hook can miss. Stitches can even grab an enemy he wasn't aiming at.[5]

Putrid Bile
Slam
Unholy Carapace
Stitches is a character in World of Warcraft. His appearance in Blizzard DotA was lifted from his Warcraft origins.[1]
References
Edit