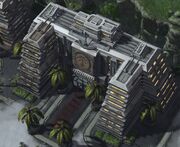 Sunset Palms Hotel is a large hotel in Elsecaro on Tyrador IX. During the era of the Terran Confederacy, Sunset Palms was exclusive to the Old Families. After the fall of the Confederacy and the rise of the Terran Dominion, it provided a convenient dock for all inhabitants of Tyrador IX.
References
Edit
Blizzard Entertainment. StarCraft II. (Activision Blizzard). PC. Mission: Nova Covert Ops, Trouble in Paradise (in English).
Ad blocker interference detected!
Wikia is a free-to-use site that makes money from advertising. We have a modified experience for viewers using ad blockers

Wikia is not accessible if you've made further modifications. Remove the custom ad blocker rule(s) and the page will load as expected.