This article or section contains information derived from Co-op Missions, and should not be considered part of the official StarCraft storyline.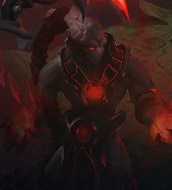 Supplicants are a type of Tal'darim warrior.
Supplicants are the most loyal followers of Highlord Alarak, and willingly sacrifice their life-force for him while in battle.[1] They likewise provide life-force for ascendants.[2]
Game Unit
Edit
Supplicant
Unit
Race
Affiliation

Tal'darim

Armament
Production

Minerals

150 (for 2)

Psi

2

Produced from
Protection

Shields

125

Hit points

75

Armor

0

Type
Armor type
Blood Orb
Damage

5

Targets

Cooldown

1.65

Range

3
Supplicants are available in Co-op Missions when playing as Alarak. They are produced in pairs, in a manner similar to zerglings. They automatically sacrifice themselves to keep Alarak alive when in close proximity to him. They can also be sacrificed to fully restore the energy of an ascendant.[1]
While numerically superior, supplicants are very poor units offensively, dealing little damage at a short range. There is little need to producing supplicants if the player is not making heavy use of Alarak or ascendants.
Supplicants' shields take less damage from enemy units. (This increases the armor on the shields by +2.)
Campaign Acquisition
| | |
| --- | --- |
| Unlock | Initially available |
Supplicants gain +25 shields.
Campaign Acquisition
| | |
| --- | --- |
| Unlock | Reach Alarak Level 4 |
Quotations
Edit
References
Edit
Ad blocker interference detected!
Wikia is a free-to-use site that makes money from advertising. We have a modified experience for viewers using ad blockers

Wikia is not accessible if you've made further modifications. Remove the custom ad blocker rule(s) and the page will load as expected.