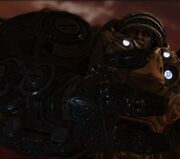 The T-200 modular assault cannon[1] is a terran cybernetic cannon that can be grafted to terrans who have lost limbs in combat. The cannon has the ability to switch between a functional mechanical arm and an assault cannon, which fires rocket propelled rounds.[2]
General Horace Warfield was equipped with one after he lost his right arm during the Invasion of Char.[3]
References
Edit
Ad blocker interference detected!
Wikia is a free-to-use site that makes money from advertising. We have a modified experience for viewers using ad blockers

Wikia is not accessible if you've made further modifications. Remove the custom ad blocker rule(s) and the page will load as expected.