The title of this article is conjectural. The subject has no canonical name.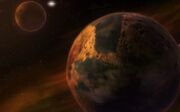 The Tarsonis system[1] is a star system located in the Koprulu sector. The celestial body a single star, one that is exceptionally active at times as it occasionally creates powerful solar flares. It features the world of Tarsonis.[2]
At least one other terrestrial planet is located within the system, being closer to the system's star than Tarsonis.[3]
References
Edit
Ad blocker interference detected!
Wikia is a free-to-use site that makes money from advertising. We have a modified experience for viewers using ad blockers

Wikia is not accessible if you've made further modifications. Remove the custom ad blocker rule(s) and the page will load as expected.