Ad blocker interference detected!
Wikia is a free-to-use site that makes money from advertising. We have a modified experience for viewers using ad blockers

Wikia is not accessible if you've made further modifications. Remove the custom ad blocker rule(s) and the page will load as expected.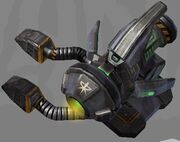 The tech lab is a terran add-on in StarCraft II. It allows attached production structures to build advanced units, and provides some upgrades for those units.
A structure may not be attached to both a reactor and tech lab simultaneously.
The tech lab provides the advanced facilities needed to store the medpacks used by medics. During the Second Great War, Remedius Medical Systems developed a medpack storage facility that could be placed within a barracks without the need for a tech lab. (This enables medics to emerge twice as quickly from a barracks attached to a reactor.)[1]
Tech Lab
Structure
Race
Role

Advanced units and research add-on

Production

Minerals

50

Gas

25

Build time

25

Parent

Hotkey

X

Protection
Hit points

400

Armor

1 (+2 with Building Armor)

Type
Armor type
Function
Allows

Advanced units and research
Production
Edit
Researched Abilities and Upgrades
Edit

Drilling Claws
Reduces the time Activate Mine takes to burrow the widow mine from 3 seconds to 1 second.
Added in Heart of the Swarm.
Acquisition
| | |
| --- | --- |
| Purchased from | Tech lab attached to factory |
| Hotkey | C |
| | |
| --- | --- |
| Cost | 150 150 110 |
| Required | Armory |
Building Upgrades
Edit
Wings of Liberty Campaign
Edit
Tech labs only serve to allow the player to build the more advanced units. Upgrades that are normally researched through the tech lab in melee games are instead researched in the armory on the Hyperion and some are already pre-researched (such as the banshee's cloak and the siege tank's siege mode).[1]
Co-op Missions
Edit
The various Terran commanders have a number of unique upgrades available to them at the tech lab.
Raynor Upgrades
Edit
Swann Upgrades
Edit
Nova Upgrades
Edit
Development
Edit
References
Edit