You may be looking for: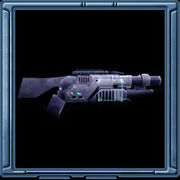 The Torrent SR-8 is a terran shotgun firing adamantine shot into a conical volume.[1][2] In use by 2488,[3] it is a common light infantry weapon.[4][5]
Dium Flecc took an SR-8 after he had left the Dominion Armed Forces, and used it for range boar hunts. When a mutalisks began attacking tourists on Choss, he used it to shoot down one of them, but was caught by the creature's acidic blood.[6]

This article or section contains information about StarCraft: Ghost, which has been declared non-canon. Elements may be taken as 'flavor lore' however.
The content may be significantly out of date. Please do not add speculation to this article, and remember to cite a published source for details.
StarCraft: Ghost Statistics
Edit
| | |
| --- | --- |
| Modes | Single shot |
| Reload | 2.2s |
| Ammo | Adamantine shot[7] |
References
Edit