Ad blocker interference detected!
Wikia is a free-to-use site that makes money from advertising. We have a modified experience for viewers using ad blockers

Wikia is not accessible if you've made further modifications. Remove the custom ad blocker rule(s) and the page will load as expected.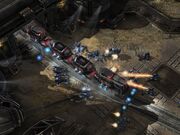 Trains are a form of transport utilized by terrans.
Known types include multi-trains[1] and mag-lev trains. Shielding technology may be used to prevent scanning of the cargo.[2]
In 2504, the Terran Dominion ran a large number of supply trains with minimal security on Tarsonis. Raynor's Raiders robbed several of these trains, one of which was transporting Adjutant 23-46.[2]
In 2506, Moebius Corps ran trains across Tarsonis to ferry supplies for Amon's forces. Graven Hill was tasked with destroying these trains, but his forces did not arrive in time. Instead he tasked allied commanders with intercepting these trains before they could escape. [3]
Known Trains
Edit
References
Edit