This article concerns StarCraft/StarCraft: Brood War gameplay. You may be looking for:
Ultralisk
Unit
Race
Role

Heavy Assault Warrior

Armament

Kaiser blades

Properties
Size

Large

Sight range

7

Production

Minerals

200

Gas

200

Control

4

Build time

60

Evolves from
Requires

Hotkey

U

Movement

Speed

5.4 (8.1 with Anabolic Synthesis)

Protection
Hit points

400

Armor

1 (+2 with Chitinous Plating)

Combat
Ground attack

20

Cooldown

15

Attack range

1
The ultralisk is a heavy zerg ground unit in StarCraft.
The ultralisk's attack is hardly impressive for its cost and high tier. Its main advantage is durability, staying power and fear. The ultralisk may lead an attack and draw the first volleys of defensive fire allowing more of the lesser zerg units to survive and close to attack. The ultralisk's relatively slow speed requires some planning to get it to the front rank before the attack. Its large footprint may hinder it and its allies at choke points in addition to making it difficult to re-position once caught in a melee.
Ultralisks, while having strong armor, are not very effective against groups of units that deal explosive damage or large amounts of it; this includes siege tanks in siege mode, mass dragoons, reavers, dark templars and occasionally, groups of zealots. Spider mines are also effective against ultralisks. Other counters also include archons with support and the battlecruiser's Yamato cannon which can take down more than half an ultralisk's hit points. Psionic storms and irradiate are also capable of damaging an ultralisk severely though not directly killing it.
Acquisition
Level 1
Level 2
| | |
| --- | --- |
| Cost | 150 150 298 |
| Required | Lair |
Level 3
| | |
| --- | --- |
| Cost | 200 200 330 |
| Required | Hive |
Acquisition
Level 1
Level 2
| | |
| --- | --- |
| Cost | 225 225 298 |
| Required | Lair |
Level 3
| | |
| --- | --- |
| Cost | 300 300 330 |
| Required | Hive |
Brood War
Edit
Development
Edit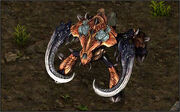 The ultralisk, along with every other unit, was visually upgraded in StarCraft: Remastered. Carrying over its kaiser blades was difficult, as it was difficult to gauge how sharp they were meant to be based on the original sprite.[1]
References
Edit
Ad blocker interference detected!
Wikia is a free-to-use site that makes money from advertising. We have a modified experience for viewers using ad blockers

Wikia is not accessible if you've made further modifications. Remove the custom ad blocker rule(s) and the page will load as expected.