This article concerns StarCraft II gameplay. You may be looking for:
Ultralisk
Unit
Race
Role

Heavy assault beast

Armament

Kaiser blades

Properties
Transport
size

8

Sight range

9

Production

Minerals

300

Gas

200

Control

6

Build time

55

Evolves from
Requires

Hotkey

U

Movement

Speed

2.9531

Acceleration

1000

Lateral
acceleration

46.0625

Deceleration

0

Creep


multiplier

x 1.3

Collision radius

1

Protection
Hit points

500
600 (WoL campaign)

Hit point
regen/second

0.2734

Armor

1 (+2 with Chitinous Plating)

Type
Armor type
Kaiser Blades
Damage

WoL: 15 (+20 vs armored)
HotS (multiplayer): 35 HotS (campaign): 25

Targets

Cooldown

0.861
1 (HotS campaign)

Range

1 (melee)

Upgrade/level
Meta
Target
priority

20

Kill score

1600

Production
score

800
The ultralisk remains the heavy assault beast for zerg forces. The ultralisk may now burrow, although it takes longer to burrow than smaller zerg units.
Ultralisks are fast and deal high damage to armored units (Wings of Liberty only). They also deal splash damage which makes them effective against groups of low HP units, such as zerglings and zealots. They are vulnerable to immortals, siege tanks, and dark templar. They are immune to stun and mind control effects.
Abilities
Edit
Researched Abilities
Edit
Game Unit
Edit
Wings of Liberty
Edit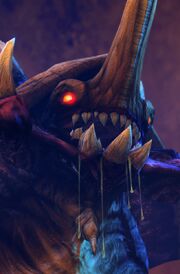 Captive ultralisks are featured as a number of destructable doodads. "Piercing the Shroud" has a captive ultralisk; when destroyed it releases broodlings. A similar unselectable ultralisk is found in a hidden place in "Ghost of a Chance". Though it maintains its frenzied attribute it can still be captured using the hive mind emulator.
Heart of the Swarm
Edit
In the Heart of the Swarm campaign, the ultralisk can be evolved into either the Noxious or Torrasque strain after the necessary evolution mission is completed.
It is also significantly less powerful offensively compared to the multiplayer version, doing only 25 damage per attack against its main target and 5 damage to secondary targets.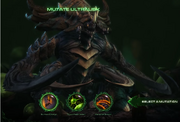 Co-op Missions
Edit
The ultralisk and ultralisk cavern are exclusive to Kerrigan in Co-op Missions. Additional upgrades for the ultralisk become available when Kerrigan reaches Level 13. Kerrigan's ultralisks automatically upgrade into Torrasque when she reaches Level 14.
Development
Edit
A Torrasque skin is available for ultralisks in StarCraft II's multiplayer for players who purchased the digital deluxe or collector's edition of StarCraft II: Heart of the Swarm.[3]
References
Edit