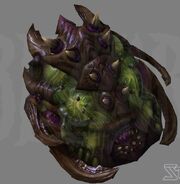 The zerg ultralisk cavern is a shelled structure in which there are numerous high-radiation deposits and other dangerous substances. It is in this extremely hostile environment that the ultralisk gains its toughness. In addition, it provides all of the genetic coding for the larva to morph into the breed itself.[1]
Game Unit
Edit
StarCraft
Edit
Researched Upgrades
Edit
StarCraft: Brood War
Edit
During the Brood War, the ultralisk caverns could also provide additional genetic mutations for Anabolic Synthesis (for faster movement) and Chitinous Plating (for improved armor).[2]
StarCraft II
Edit
Ultralisk Cavern
Structure
Race
Properties

Broodlings


produced

6

Production

Minerals

150

Gas

200

Build time

46

Evolves from
Requires

Hotkey

U

Protection
Hit points

850

Armor

1

Type

Armored
Biological
Structure

Function
Allows
In StarCraft II the ultralisk cavern is still required for production of ultralisks.
Researched Upgrades
Edit
Co-op Missions
Edit
The ultralisk and ultralisk cavern are exclusive to Kerrigan in Co-op Missions. Additional upgrades for the ultralisk become available when Kerrigan reaches Level 13.
Development
Edit
References
Edit
Ad blocker interference detected!
Wikia is a free-to-use site that makes money from advertising. We have a modified experience for viewers using ad blockers

Wikia is not accessible if you've made further modifications. Remove the custom ad blocker rule(s) and the page will load as expected.