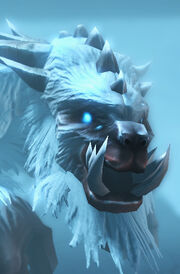 The ursadon is a white bear-like creature found on worlds such as Braxis and Kaldir. It appears as a critter in-game.
The ursadon thrives in the snowy frozen wastelands of Braxis, and possess no natural enemies. These carnivorous animals hunt in the icy water for food. Instances of attacks on humans are rare, but the few recorded instances of an enraged ursadon attack have always ended in tragedy. The Koprulu Wilderness Society recommends keeping a safe distance from ursadons, for the safety of both the observers and the animals.[1]
Ursadons can resist "flash freezes", which are found on some planets they live on, such as Kaldir.
Ursadon society is controlled by ursadon matriarchs.[2]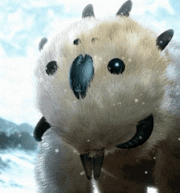 Ursadons have been found on a dark moon that Dark Prelate Zeratul encountered on one of his journeys. Three were subjected to experiments by Clandestine Mercenaries, causing a broodling to emerge from one of their stomachs upon death.[3]
Braxis was "purified" by the protoss under Artanis during a secret mission.[4] However, the ursadon was reintroduced.[5]
During the Second Great War, a protoss base on Kaldir, a planet where ursadons could be found, was attacked by the zerg. In order to avoid the flash-freeze effects, Sarah Kerrigan ordered her troops to slay an ursadon matriarch and use its DNA to enhance her zerg ability to withstand the extreme cold.[2]
The protoss researchers kept giant ursadons as test subjects on one of their ships.[6]
During the Defenders of Man Insurgency, ursadon rights activists in the Terran Dominion began to organize for protests.[7]
Game Unit
Edit
StarCraft
Edit
Ursadons are the only critters in StarCraft to leave a corpse.
StarCraft II
Edit
Ursadons can "leap" down cliffs. They became especially aggressive during flash freezes, and packs of them will spawn and attack protoss and zerg indiscriminately.[2]
Abilities
Edit
The ursadon charges towards nearby enemies. Can be set to autocast.
Usage
| | |
| --- | --- |
| Hotkey | C |
| Range | 6 |
| Duration | 5 |
| Cooldown | 10 |
Development
Edit
Known Ursadons
Edit
References
Edit