"We are the first to battle, and if fate smiles upon us, we shall never return."
The vanguard is a Tal'darim variant of the immortal featured in the single-player campaign of StarCraft II: Legacy of the Void.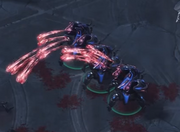 The vanguard are piloted by Tal'darim warriors that fell in battle. Disgraced in defeat, they are placed in a vanguard for one more chance to make up for their failure. They revel in causing as much destruction as they can before dying in service to their highlord.[1]
Game Unit
Edit
Vanguard
Unit
Race
Affiliation

Tal'darim

Role

Robotic Assault

Armament
Properties
Transport
size

4

Sight range

9

Production

Minerals

250

Gas

100

Psi

4

Build time

55

Produced from

Hotkey

I

Movement

Speed

2.25

Acceleration

1000

Lateral
acceleration

0

Deceleration

0

Collision radius

0.75

Protection

Shields

100

Shield
regen/second

2

Hit points

200

Armor

1

Type
Armor type
Scatter Cannons
Damage

8 (+7 vs armored)

Attacks

16

Targets

Cooldown

3.75

Range

6

Upgrade/level

+1 (+1 vs armored)

Scatter Cannons(Co-Op Missions)
Damage

8 (+7 vs armored)

Attacks

8

Targets

Cooldown

3.75

Range

6

Upgrade/levels

+1
The vanguard's normal attack is significantly different from the immortal and the Nerazim annihilator. The vanguard's scatter cannons deal damage in several attacks, allowing them to do significantly higher damage than the other immortal variants, but causing them to be more heavily penalized by armor. The vanguard also deals splash damage in a small radius around their primary target. This makes them very powerful against large numbers of armored enemy units, and potentially gives them the highest damage potential of the three immortal variants. However, they fire significantly slower than the immortal and annihilator, making them very vulnerable when facing superior numbers and/or unarmored/light enemies. Their attack also has a travel time, so it can partially miss fast enemies such as zerglings or charging zealots.
Co-op Missions
Edit
Vanguards can be built by Alarak in Co-op Missions. Upgrades for them are unlocked at Level 6.
Increases damage done by vanguard's attacks.
Campaign Acquisition
| | |
| --- | --- |
| Unlock | Initially available |
Increases the splash radius of the vanguard's attack by 30%.
Campaign Acquisition
| | |
| --- | --- |
| Unlock | Reach Alarak Level 6 |
Quotations
Edit
References
Edit
Ad blocker interference detected!
Wikia is a free-to-use site that makes money from advertising. We have a modified experience for viewers using ad blockers

Wikia is not accessible if you've made further modifications. Remove the custom ad blocker rule(s) and the page will load as expected.