Viper
Talk

3
5,307pages on
this wiki
Viper
Unit
Race
Role

Terrain Control Specialist

Properties
Maximum energy

200

Production

Minerals

100

Gas

200

Control

3

Build time

40

Evolves from
Requires

Hotkey

E

Movement

Speed

2.95

Acceleration

3[1]

Protection
Hit points

150

Armor

1

Type
Armor type
The viper is a new strain of zerg fliers that was incorporated in StarCraft II: Heart of the Swarm.
Vipers contain a thick microbial "soup" in their abdomens, which they fire at ranged enemies, damaging their weapons systems. The viper can siphon bioelectrical energy and nutrients from other zerg.[2]
Game Unit
Edit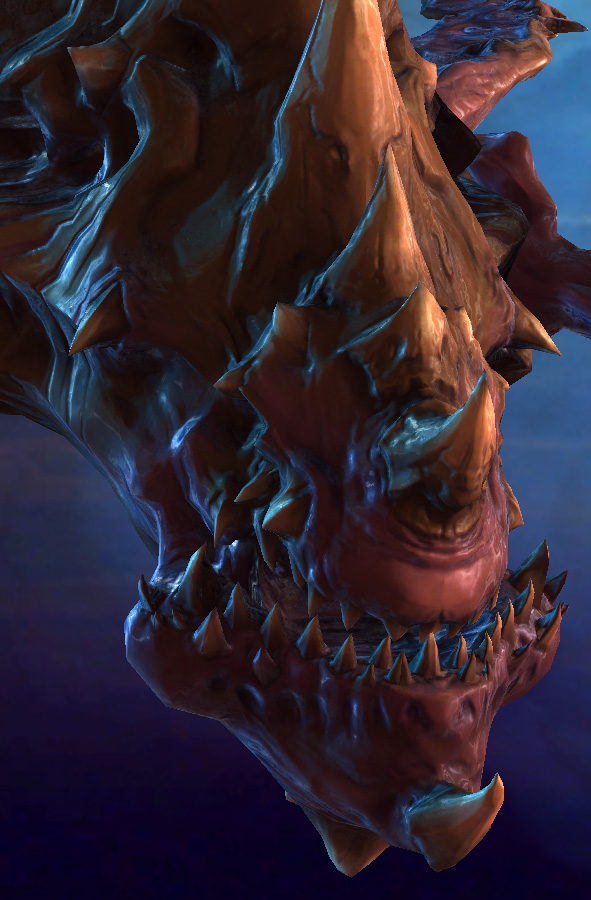 Vipers are classified as "battlefield manipulation units." They are hive-level caster units with no other prerequisite building.
Vipers are meant to give the zerg an extra edge in clearing out chokepoints, allowing the short-range zerg units to stand a better chance against long-ranged ones.[3]
Abilities
Edit

Abduct
Usage
Energy

75

Hotkey

D
Notes
The viper targets a unit and pulls that unit to the viper's location. This allows it to pull allies to safety, or pull enemy units out of position. The ability can pull units up and down cliffs.
While the target is being pulled, it cannot attack. If the target had been burrowed, it will reburrow when the pull ends.[4]
Edit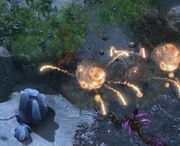 Blinding Cloud
Usage
Energy

100

Duration

14

Hotkey

B
Notes
The viper spits a green cloud. Ground units and structures in the cloud have their range reduced to one.
The cloud covers an area of 2.[1]
Units can move out of the cloud to fire normally.
Edit

Consume
Notes
The ability deals 200 damage on a friendly building (except a creep tumor) over 20 seconds to gain 50 energy. The ability does not work on units.
Edit
Flyer Carapace

Evolved at
Properties

| | | | |
| --- | --- | --- | --- |
| Level | Level 1 | Level 2 | Level 3 |
| Minerals | 150 | 225 | 300 |
| Gas | 150 | 225 | 300 |
| Evolution time | 160 | 190 | 220 |
| Required | | | |

Notes

+1 bonus to armor per level for zerg air units.

Edit
Heart of the Swarm Campaign
Edit
In the campaign, the viper is an evolution of the mutalisk, derived from the genes of primal zerg. Vipers also appear as part of Yagdra's pack in The Crucible.[5]
The viper strain of the mutalisk has the same statistics as a regular mutalisk (but aesthetically, it is different by having four blue wings), but can transform itself into a viper at a specific mineral, vespene and time cost.
Abduct costs 25 energy, Disabling Cloud replaces Blinding Cloud and prevents shooting from beneath the cloud entirely, Consume targets allied units, and the viper can directly attack air units, dealing bonus damage to armored units. The attacks deal 10 damage, +5 vs armored units, and have a range of 6 and a cooldown of 1.5. However, their attacks pale in comparison to dedicated air-to-air combat units, such as the viking.[6]
Development
Edit
Special Viper Strains
Edit
The viper is David Kim's favorite new zerg unit in Heart of the Swarm.[7]
References
Edit