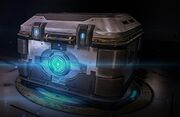 War Chests are a seasonal feature[1] in StarCraft II. 25% of proceeds will go toward the prize pool of WCS, and after $200,000 any further funds will go to operating costs on the tournament.
For each War Chest, players will do a one-time[2] nominal[1] payment, and receive a "treasure map" that they will level up by playing the game's multiplayer and/or Co-op Missions. Every time they level up the war chest, they will receive prizes. The prizes will not be random, and will be predetermined. Loot from these chests include skins, emoticons, decals, and issues of the in-client comic series StarCraft II: Shadow Wars. Automatic rewards are given upon purchase of the War Chest, and at the end of a season, players will receive rewards just for participating. The War Chest loot works on a tiered system. Each tier unlocks more rewards than the preceding tier. There will be three tiers.
There will be one war chest per race, each having its own set of rewards. Unlocking one then purchasing another race's War Chest will give the player they made with that race. Exp gain for the war chests will be doubled int the last month to help players catch up.[3]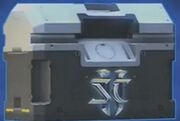 The seasons themselves are not tied to ladder seasons, but rather to WCS events. Alerts will be generated on the web and in the game's client to let them know when a war chest season has begun. All rewards for the War Chest will be purchasable after the event ends, but the War Chest will provide a large discount.
A portion of the proceeds from war chests will go toward StarCraft e-sports events and tournaments.[2]
War Chest Seasons
Edit
BlizzCon 2017
Edit
The first War Chest released July 19th, 2017.[3] On October 5, the War Chest will no longer be available to purchase. From this point to November 4 (when the chest closes), experience gains will be doubled. War Chest features will be available for individual sale from January 2018, though the emoticons, decals, sprays, and portraits will remain exclusive for those who purchased the War Chest.[4]
The following features are available from the War Chest:[3]
Terran
Tier
Reward
Initially Unlocked
Special Forces SCV

Tier 1
Special Forces Marine
Tier 2
Special Forces Marauder
Tier 3
Special Forces Ghost
Tier 4
Special Forces Reaper

Tier 5
Special Forces Medivac


Fist Bump Emoticon

Tier 6
Special Forces Hellion
Tier 7
Special Forces Cyclone
Tier 8
Special Forces Widow Mine
Tier 9
Special Forces Siege Tank

Tier 10
Special Forces Thor


Baited Emoticon
Applause Emoticon
Ghost Spray
Rattlesnake Spray

Tier 11
Special Forces Banshee
Tier 12
Special Forces Viking
Tier 13
Special Forces Liberator
Tier 14
Special Forces Raven

Tier 15
Special Forces Battlecruiser


 ??? Emoticon
QQ Emoticon
Peace Emoticon
Color Marine Portrait
Ghost Decal
Zerg
Tier
Reward
Initially Unlocked
Leviathan Drone

Tier 1
Leviathan Zergling
Tier 2
Leviathan Hydralisk
Tier 3
Leviathan Roach
Tier 4
Leviathan Baneling


RIP Emoticon

Tier 5
Leviathan Queen


Stinky, Stinky Tofu Emoticon

Tier 6
Leviathan Ravager]
Tier 7
Leviathan Swarm Host
Tier 8
Leviathan Infestor
Tier 9
Leviathan Lurker


Kappa Emoticon

Tier 10
Leviathan Ultralisk


Tea Time Emoticon
Fingers Crossed Emoticon
Claws Spray
Overlord Spray

Tier 11
Leviathan Overlord
Tier 12
Leviathan Mutalisk
Tier 13
Leviathan Corruptor
Tier 14
Leviathan Viper

Tier 15
Leviathan Brood Lord

Protoss
Tier
Reward
Initially Unlocked
Forged Probe

Tier 1
Forged Zealot
Tier 2
Forged Adept
Tier 3
Forged Stalker
Tier 4
Forged Dark Templar


Gift Emoticon

Tier 5
Forged High Templar


Cheese Emoticon

Tier 6
Forged Sentry
Tier 7
Forged Immortal
Tier 8
Forged Oracle
Tier 9
Forged Disruptor

Tier 10
Forged Colossus

Tier 11
Forged Phoenix
Tier 12
Forged Void Ray
Tier 13
Forged warp prism
Tier 14
Forged Mothership

Tier 15
Forged Carrier


Forged Tempest
Color Alarak Portrait
Corrupted Protoss Spray
Other Rewards
The following rewards are given upon the first purchase of any War Chest:
References
Edit