This article or section contains information from content currently in development.

The content may change substantially over time.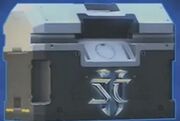 War chests are a seasonal feature[1] to be added in the future in StarCraft II. They are intended to start releasing in Q3 2017.[2]
For each war chest, players will do a one-time[3] nominal[1] payment, and receive a "treasure map" that they will level up by playing the game's multiplayer and/or Co-op Missions. Every time they level up the war chest, they will receive prizes. The prizes will not be random, and will be predetermined. Loot from these chests include skins, emoticons, announcers, changes in the overlay, and issues of the in-client comic series StarCraft II: Shadow Wars. Automatic rewards are given upon purchase of the war chest, and at the end of a season, players will receive a prize just for participating. The war chest loot works on a tiered system. Shadow Wars is unlocked at the most basic tier, with subsequent tiers going up by silver, gold, platinum, and diamond. Each tier unlocks more rewards than the preceeding tier.
The seasons themselves are not tied to ladder seasons, but rather to WCS events. Alerts will be generated on the web and in the game's client to let them know when a war chest season has begun.
A portion of the proceeds from war chests will go toward StarCraft e-sports events and tournaments.[3] The first war chest season will go toward increasing the prize pool for the 2017 WCS Global Finals over the base prize pool of $500,000.[2]
References
Edit