Widow mine
Talk

6
5,358pages on
this wiki
You may be looking for: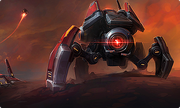 The widow mine is a terran unit introduced in Heart of the Swarm.
Constructed around a modified version of the spider mine pioneered by Victor Kachinsky, the widow mine represents the next step in Dominion automated weaponry. The quadrupedal device is controlled remotely, piloted into a contested area and then set to activate when enemy units draw near. Once triggered, the widow mine launches a missile designed to explode in a firestorm of shrapnel, eliminating its primary target as well as any foes that might be nearby.[1]
Game Unit
Edit
Widow Mine
Unit
Race
Armament

Sentinel Missiles

Properties
Transport
size

2

Production

Minerals

75

Gas

25

Supply

2

Build time

40

Produced from
Movement

Speed

2.81

Protection
Hit points

90

Armor

0

Type
Armor type
Sentinel Missiles
Damage

40 + 40 vs shields (splash damage radius 1.75, deals full damage in the radius)[2]

Targets

Cooldown

40

Range

5[3]
Sentinel Missiles is an autocast ability that automatically activates when a widow mine is burrowed, and cannot be turned off unless the widow mine unburrows. This ability causes the widow mine to fire a missile at a target within 5 range, causing 125 damage (+35 vs. shields) and 40 splash damage. The widow mine then spends 40 seconds rearming.
Activate Mine: The mine takes 3 seconds to burrow, or 1 second after it has received the Drilling Claws upgrade.
While unburrowed, a widow mine's priority is reduced.[4]
The ability is autocast and can be turned on or off in both activated and deactivated modes.
Abilities
Edit

Sentinel Missiles
Usage
Range

5

Cooldown

40
Notes
The widow mine fires a sentinel missile that deals 125 damage (+35 vs. shields) and 40 splash damage to units within 1.25 radius, 20 damage inside 1.25 to 1.5, and 10 damage from 1.5 to 1.75. The ability is automatically activated when the widow mine burrows and can only be deactivated when the mine unburrows.
The attack damages any friendlies except itself or other widow mines[5]
The ability is autocast.
Edit

Activate Mine
Usage
Duration

3 (1 with Drilling Claws)
Notes
The widow mine burrows, activating the Sentinel Missiles ability.

The ability can be autocast.
Edit
Terran Vehicle and Ship Plating
Researched at
Hotkey

V

Properties

| | | | |
| --- | --- | --- | --- |
| Minerals | 100 | 175 | 250 |
| Gas | 100 | 175 | 250 |
| Research time | 160 | 190 | 220 |

Notes

Increases the armor of terran vehicles and spacecraft

Edit
Drilling Claws
Researched at
Hotkey

C

Properties
Notes

Reduces the time Activate Mine takes to burrow the widow mine from 3 seconds to 1 second.

Edit
Development
Edit
The widow mine was previously a suicide unit.[6][7]
In patch #8, it lost the ability to autoacquire cloaked units.[8]
References
Edit