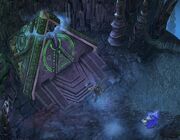 Xel'naga shrines[1] are relics of the xel'naga.
Three were notably located on Ulaan, each of which contained a fragment of a prophecy. They were accessed by Dark Prelate Zeratul in 2504. Sarah Kerrigan attempted to prevent him from accessing the shrines and escaping with the prophecy, but failed.[2]
The xel'naga left (at least) three shrines on Xil in order to house protoss relics, located near a temple. These shrines could only be destroyed by a Drakken laser drill.[3]
References
Edit
Ad blocker interference detected!
Wikia is a free-to-use site that makes money from advertising. We have a modified experience for viewers using ad blockers

Wikia is not accessible if you've made further modifications. Remove the custom ad blocker rule(s) and the page will load as expected.