Yamato cannon
Talk

3
5,416pages on
this wiki
"Alright boys, hit 'em with the Yamato cannon! Couple of shots from that'll flatten anything!"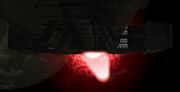 The Yamato cannon (a.k.a. Yamato gun) is a feared[1] terran particle weapon.[2]
By the Great War, recent research had led to the development of the weapon. It uses an intense magnetic field to focus a small nuclear explosion into a cohesive beam of energy. The cannon requires a huge energy reserve to fire, but the effects make it worthwhile. In 2499, terran engineers were working overtime to retrofit existing battlecruisers with the weapon. Behemoth-class battlecruisers received such retrofits.[2] The cannon was suitable for "scorched earth" work.[3]
By 2502,[4] the Minotaur-class battlecruiser was in service,[5] equipped with a Type-V yamato cannon.[6]
Game Effect
Edit
In both StarCraft and StarCraft II, the Yamato cannon's range of ten makes it an effective siege weapon, able to destroy stationary defenses and anti-air units out of their range, leaving the battlecruiser safe. However, it takes a few seconds to charge before firing once a target is acquired. Only the strongest units can survive a shot from a Yamato cannon. The Yamato cannon is best used to eliminate strong anti-air defenders, such as enemy battlecruisers, carriers, and void rays.
StarCraft
Edit
Yamato Gun

Acquisition
Minerals

100

Gas

100

Research time

120

Hotkey

Y

Usage
Energy

150

Range

10

Hotkey

Y

Notes

The Yamato Gun is a powerful weapon that focuses a nuclear explosion into a beam using magnetic fields. It deals 260 damage.
StarCraft II
Edit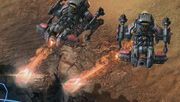 Acquisition
Edit

Weapon Refit
Acquisition
Minerals

150

Gas

150

Research time

60

Researched at
Hotkey

R
Notes
Analogous to StarCraft's "Yamato Gun". Adds a large central gun to the bow. Prior to firing, the "head" splits apart, and the 'neck' recoils when the weapon is fired. Does 300 damage to any target they hit.
Edit

Yamato Cannon
Usage
Energy

100

Range

10

Activation/
Build Time

3

Hotkey

Y
Notes
Blasts a target with a devastating plasma cannon, causing 300 damage.
Edit
Achievements
Edit
Yamato Master Blaster
Points

10

Criteria

Destroy 20 units with Yamato blasts in a single League game.
References
Edit