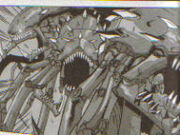 Zerg-bots, mechanical recreations of zerg, are a class of battle-bot.
Used by the Ghost Academy in training simulations, zerg-bot variants include replications of zerglings, hydralisks and defilers, all of which mimic their organic counterparts' actions. The defiler's plague ability is substituted for by a flamable gas that induces paralysis. A controller (such as Sarco Angelini) oversees and controls the robots' actions. Zerg-bots are capable of learning and adjusting to ghost trainee tactics.
To ensure further accuracy, the use of technopathy is forbidden against the robots.[1]
References
Edit
Ad blocker interference detected!
Wikia is a free-to-use site that makes money from advertising. We have a modified experience for viewers using ad blockers

Wikia is not accessible if you've made further modifications. Remove the custom ad blocker rule(s) and the page will load as expected.