This article concerns StarCraft/StarCraft: Brood War gameplay. You may be looking for:
Zergling
Unit
Race
Role

Close combat strain

Armament

Claws

Properties
Size

Small

Sight range

5

Production

Minerals

25

Control

0.5

Build time

28

Evolves from
Requires

Hotkey

Z

Movement

Speed

5.57 (8.36 with Metabolic Boost)

Protection
Hit points

35

Armor

0

Combat
Ground attack

5

Cooldown

8 (6 with Adrenal Glands)

Attack range

1
The zergling is the least durable basic troop unit. This is offset by inexpensive production, and high movement and attack rate. The zergling is useful throughout the game; it may be used for early game rushes, then as support for more powerful units in the late game (eg. ultraling).
Zerglings should be used in swarms. This is especially important as the game progresses and attacks and abilities inflicting splash or AoE damage become more common. Surround and attack individual enemy units with multiple zerglings at once for quick kills.
If a zergling egg hatches after the controlling player is eliminated, one will spawn normally but the other will become blue and neutral.
Abilities
Edit
Zergling Heroes
Edit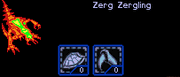 Special Zergling Strains
Edit
Development
Edit

During development of StarCraft, four versions of the zergling were developed independently—one by the cinematics team, one by the games team, and a separate take as represented by its unit profile. Samwise Didier did his own, fourth version of the zergling for the game's manual. The concept art that appeared was later made part of a videogames exhibit at the Smithsonian.[1]
As with every other unit, the zergling received a visual upgrade for StarCraft: Remastered. Time was taken to ensure that its hands (barely visible in the original sprite) were able to be seen.[2]
References
Edit